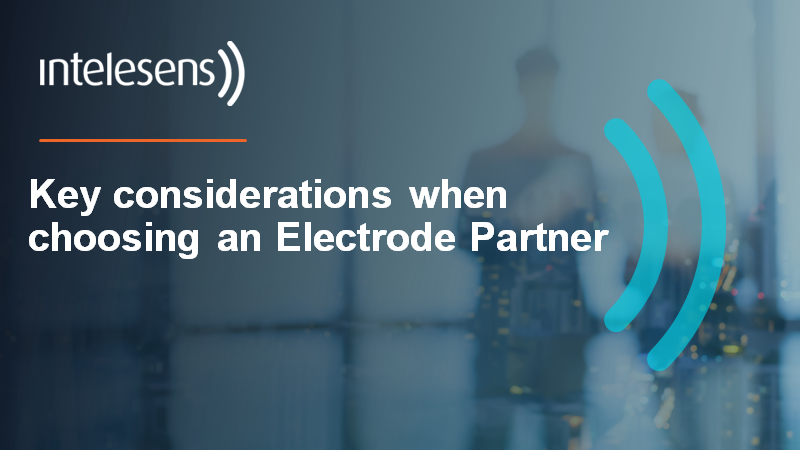 Key considerations when choosing an electrode partner.  There are six major factors to consider.
Good Cultural fit
Trust and reliability
Proven industry experience
Extensive design, development and manufacturing capabilities
Robust quality management system
Listen to your own instinct
1. Good Cultural Fit  
·       Culture has crucial role in shaping behaviour in organisations ·       It is so important that the prospective partner has an organisational culture and values that are similar to yours ·       There are several factors that can contribute to a company's culture such as company vision, core values, norms, systems, symbols, language, assumptions, beliefs, and habits ·       With these factors in mind, choose a partner that fits with your ethos to ensure a successful partnership ·       Get to know them – build a relationship  
Your relationship usually lasts for the entire lifecycle of your product so needs to be right  
2. Trust & Reliability
·       Establishing trust and accountability is key to a truly collaborative partnership ·       Both parties need to have complete trust and confidence in each other's capabilities, processes and structures ·       Trust is driven by transparency and accountability on both sides ·       Trust is not given, but must be earned  
  Establishing trust and accountability is key to a truly collaborative partnership
3. Proven Industry Experience
·       Does the potential partner have a track record in doing work you want done for you – be it design, development and/or manufacturing ·       How long have they been in business? ·       What type of products have they experience in manufacturing? ·       What are their current assets and equipment? ·       Are they on Approved Vendor Lists (AVLs) for a broad range of partners?
Does experience cover all stages of the process from concept development to manufacturing?  
4. Design,          Development &                Manufacturing      capabilities  

Do they have the expertise and capabilities required for your particular project?

Who is on the team and how experienced are they?

·       Do their engineers follow all standard testing methodologies and use the correct test equipment for part qualifications? ·       Ask for customer testimonials or speak to a current customer with their permission ·       Have they experience in picking up a project at various stages of its development?

Do they have a documented product development process?

 
Do they have end-to-end process expertise?
5. Robust Quality Management System

Is the company ISO 13485 certified?

Are products designed to BS EN 60601-2-4?

Do they meet biocompatibility standards ISO 10993-5 and ISO 10993-10?

Are they RoHS and REACH compliant?

Do they have experience in CE marking, FDA registration?

Who is their registered accreditation body?

Request their quality manual, procedures and certificates

Performing a quality system audit should provide an accurate picture of compliance

Quality is one of the most important factors as a focus on quality will ensure product safety and save you both time and money in the long run
6. Listen to your own instinct
·       Ask yourself, do you like them, do you enjoy working with them, do you respect them? ·       Do they respect you – do they turn up for meetings on-time, prepared ·       Do they want your business? ·       Would you be happy to work with them for a significantly long time? ·       Do you think they would go the extra mile for you and your project? ·       Do members respond and provide solutions to your challenges?
Go visit them before handing over your precious project  
| | |
| --- | --- |
| AND What to do when you visit the site? | ·       Meet the project team to discuss the next steps and start dates ·       Ask lots of challenging questions to see how different team ·       Meet the production, development staff – these are often the most insightful of people to meet ·       Make sure the design, development and manufacturing standards (technology, processes, cleanliness etc.) meet your expectations |
Your Partner of Choice
Based on our experience and expertise, we at Intelesens feel that we tick all the right boxes when it comes to being your partner for your project.  Whether your project is a large manufacturing project or a development and design project, we would love to hear from you.
About Intelesens
Intelesens, founded in 2000, is a specialist manufacturer of defibrillator and ECG electrodes based in Belfast, Northern Ireland. We have created a flexible partnership approach to developing, validating and manufacturing ECG and defibrillation electrodes, tailored to meet our client's exacting requirements. We work with a wide range of international clients, from startup companies developing initial concept designs to contract production for well-established multi-national providers. We have the experience, knowledge and in-house facilities to deliver a cost-effective solution that's right for your business. Check out
www.intelesens.com
for more information